The CW

- Thursdays @ 8 P.M. Easter Time/7 P.M. Central Time
Smallville [Season 7, Episode #10] - "Persona"


Official Episode Info:
While Clark (Tom Welling) is frozen in the Fortress, Bizarro takes over his life with Lana (Kristin Kreuk).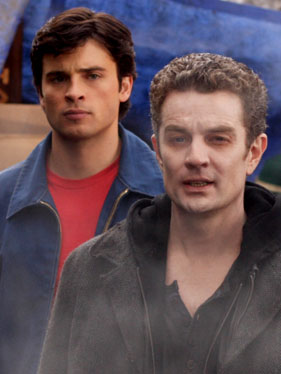 Unaware she is with Bizarro, Lana enjoys the "new Clark" and shares information she's gathered on a serial killer who is draining his victims of all trace minerals. The two conclude it must be Brainiac (guest star James Marsters) and Bizarro sets off to find him.

Lex (Michael Rosenbaum) is stunned at Lionel's (John Glover) reaction after Grant (guest star Michael Cassidy) reveals he is a clone of Julian.

Marc McClur, Jimmy Olsen from the Superman films, guest stars as Dax-Ur. Allison Mack, Erica Durance, Aaron Ashmore and Laura Vandervoort also star. Todd Slavkin directed the episode written by Holly Henderson & Don Whitehead (#3T6310).

-------

ABC - Thursday @ 8/7c
LOST [4th season premiere, 2-hour premiere] - "Past, Present & Future"


Official Episode Info:

ABC once again invites new and avid "Lost" viewers to take another look at one of the most talked about and critically acclaimed shows. "LOST: Past, Present & Future" will explore the series in a way that will bring new viewers up to date -- but which current viewers will also find illuminating in anticipation of the fourth season premiere episode. The special will take an in-depth look at the mysteries of both the island and its inhabitants and recap the secrets that have been revealed, as well as those that remain unanswered. "LOST: Past, Present & Future" airs THURSDAY, JANUARY 31 (8:00-9:00 p.m., ET) on the ABC Television Network.

When Oceanic Flight 815 crashed on an island in the middle of the Pacific, each survivor was given a choice to live together or die alone. Thrown together in this mysterious place, they have struggled to overcome shadows from their past in order to survive and answer the questions that plague their new lives on the island. Where are they? Is rescue on its way? What else is on this island? In "LOST: Past, Present & Future," relive their story of survival to prepare for the shocking season four premiere that will change everything.

"Lost" stars Naveen Andrews as Sayid, Henry Ian Cusick as Desmond, Emilie de Ravin as Claire, Michael Emerson as Ben, Matthew Fox as Jack, Jorge Garcia as Hurley, Josh Holloway as Sawyer, Daniel Dae Kim as Jin, Yunjin Kim as Sun, Evangeline Lilly as Kate, Elizabeth Mitchell as Juliet, Terry O'Quinn as Locke and Harold Perrineau as Michael.

"Lost" is broadcast in 720 Progressive (720P), ABC's selected HDTV format, with 5.1-channel surround sound and Spanish audio via SAP. A TV parental guideline will be assigned closer to airdate.

This episode of "Lost" will be available on ABC.com the day after airing on the network for users to watch online.